A stone's throw east of the central station you find Grønland with both old traditional pubs and modern bars, many cheap restaurants with food from all over the world, cheap fruit and vegetable markets and textile stores. From Grønland you can walk up to Tøyen with the Munch Museum and Kampen with its charming wooden houses.
Gamlebyen and Ekeberg are important historical areas. Archeological findings at Ekeberg indicate that people have lived here for ten thousand years, and in Gamlebyen you can see ruins of medieval Oslo. At Ekeberg you can visit the place where Edvard Munch painted The Scream, and enjoy the wonderful view of the city.
Suggested Cafés and restaurants in Oslo East
Oslo East is the home of two of Oslo's best restaurants with contemporary Nordic cuisine: Oslo Spiseforretning and Maaemo. The area is also known for reasonable eateries with food from all over the globe, and for its many welcoming cafés.
Ali Baba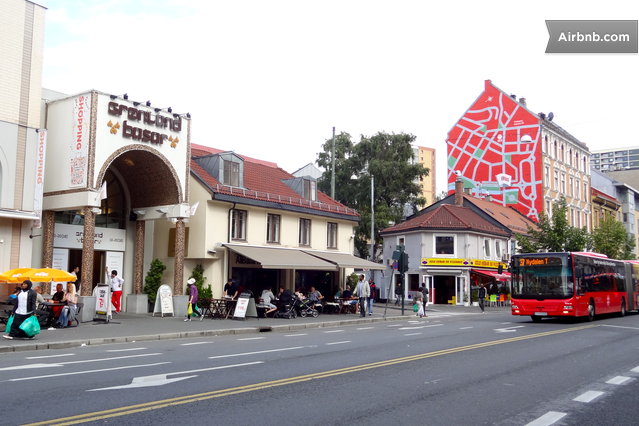 Ali Baba serves mainly Turkish dishes including kebab, grill and kofta (meatballs). Also it serves fresh salads and vegetarian pizza types. This restaurant is easy to find with friendly and helpful service for a reasonable price.
Asylet
Asylet is a cosy neighbourhood café next to Grønlands torg that serves good open-faced sandwiches and simple lunch dishes. You can also get dinner or just have a drink.
In the winter you can relax in front of Asylet's fireplace, and in summer the backyard is a great place to enjoy a meal or drink.
Asylet has room for parties of up to 45 persons, and you can rent rooms upstairs for meetings or conferences.
Ekebergrestauranten
When in Oslo, look southeast to the steep, forested Ekeberg hill. About half-way up the hillside you can spot an elegant funkis-style building, the Ekeberg restaurant.
The restaurant caters for a variety of tastes and appetites. Ekeberg offers everything from international lunch dishes and snacks to traditional à la carte and European gourmet meals.
Evita Espressobar, Teaterplassen
The square Teaterplassen at Grønland is surrounded by places to eat and drink, among them the newest branch of Evita Espressobar. This coffee shop has a large outdoor seating area, with lots of sun in the summer.
Evita Espressobar has three branches, all in the Grønland area: in Smalgangen, in Brugata and at the square Teaterplassen.
Evita serves all kinds of espresso drinks, and you can buy brewing equipment and coffee and tea by the pound. If you would like a bite to eat, they offer fresh-made bagels, sandwiches and a selection of lunch dishes. Evita also offers cakes, pastries and bread from their own kitchen, croissants from Pascal, and smoothies. On weekdays the cafés open at 7 am, allowing people on their way to work to grab a coffee and a breakfast snack on the way.
Sukkerbiten
Just a stone's throw from the Opera House, connected by a small walking bridge, a small island has appeared: Sukkerbiten.
Enjoy Sukkerbiten's summer menu on this island in the sun. You have a view of Oslo's growing skyline on one side and the Oslo Fjord on the other.
Talking About Medication Costs Yields Rewards